The meeting will take place in the Sorbonne University and in the National Museum of Natural History, both located in the 5th arrondissement, in the center of Paris, along the left bank of the Seine River. This district is commonly known as the Quartier Latin because it is where the first great Parisian university, the Sorbonne, was founded, and because Latin was the language of scholars at the time. The 5th arrondissement was also the core of Lutetia, the antique city of Paris, as revealed in a number of archaeological sites.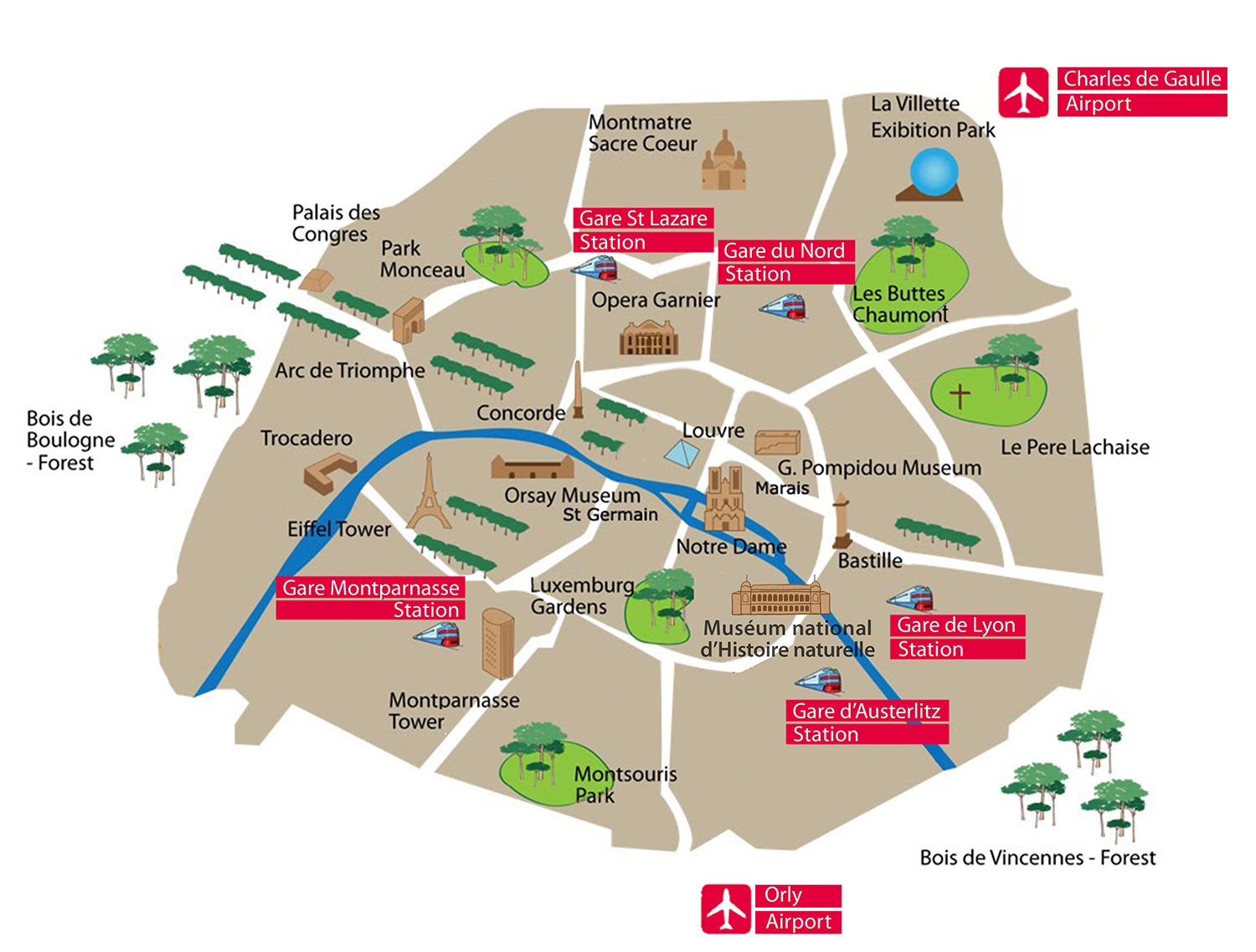 Paris has daily connections with more than 526 cities in more than 136 countries via its international airports, namely Paris - Charles-de-Gaulle (23 km northwards; commuting time 45-60 minutes by city train) and Paris - Orly (14 km southwards, commuting time 30-40 min by city train).
With seven train stations in Paris itself, the city is at the heart of an exceptionally comprehensive and high-performance rail network. On a daily basis, 425 high-speed trains connect various destinations across Europe with the French capital.
French regions (Alsace, Burgundy, Brittany, Champagne, etc.) can be reached in a few hours from Paris, thanks to this well-developed transportation network and its central position in France.
Paris is equipped with top-class infrastructures and, in particular, a dense and versatile transportation network, in which the subway, bus, tramways, taxis, "vélib" (the city's bike sharing scheme), and now the "autolib", are interlinked.
In order to enter France, an identity card is sufficient for participants from EU-member countries. All other participants need a valid passport to enter the European Union. Visas may be required for participants from some countries.
You are responsible for all travel arrangements, including procurement of visas, if necessary, and acquisition of sufficient local currency for your stay. Travelers are advised to apply for a visa as early as possible. It is imperative that you allow adequate time to process your paperwork.
If you are a foreign student and have any questions regarding your visa status, please consult the office in charge of international students at your university.
Please be advised that the IPC5 secretariat will not be able to contact or intervene with any French embassy or consulate office abroad on your behalf.
The Conference organizers cannot accept liability for personal accidents or loss of or damage to private property of participants, either during or indirectly arising from the IPC5. Participants are advised to take out their own personal health and travel insurance for their trip.